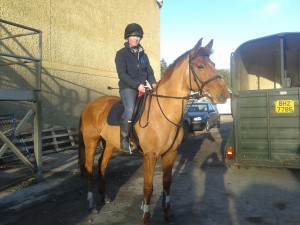 STRULE VALLEY RIDING CLUB, Omagh, Co Tyrone held an Arena Eventing Show recently at Ecclesville, Fintona on a lovely dry & sunny day!
Thanks to all those competitors who came along to take on the challenge of Andrew Bogle's Arena Eventing course.  Thanks go to Chris Bogle for judging, Andrew Bogle course building, Natasha Gilchrist entries, Alison Donnell call up & AJS Event Catering for providing refreshments.
The very nicely turned out Ciara Owens & her pony Finchogue Aztec enjoyed a successful days jumping, jumping faultless rounds in both the 60cm and 70cm classes.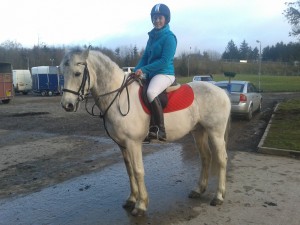 Moorlough Riding Club members also had a very good days jumping with Brendan Caldwell & Jet Two jumping clear all the way in both the 80cm & 90cm classes; Darren Preston was in his usual consistent form jumping double clear with Fyfin Charlie in the 70cm class and double clear with Fyfin Ginger and Diamond Hill Ginger in the 90cm class as did Lynn Russell & Penny jumping double clear in both the 90cm and 1 metre classes.
Clogher Valley Riding Club member Katie Clarke nee Leonard had very nice clear rounds with her own horse Jolene & also with sister Hannah's Blue.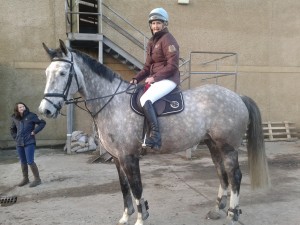 Not forgetting our own SV members; Chairperson Lucinda Blakiston-Houston rode 2 very nice clear rounds in the 80cm class with her eye catching young horse Gi Gi, & Stephanie Roulston with her lovely grey Growhowdy Cailin Deas jumped 2 super clear rounds in the 90cm class!
Results
60cm double clears
Finchogue Aztec & Ciara Owens, Kizzy & Rebecca Coyle
70cm double clears
Seajay Star & Andrena Harron, Howdy Howard & Stephanie Johnston, Finchogue Aztec & Ciara Owens, Fyfin Charlie & Darren Preston
80cm double clears
Gi Gi & Lucinda Blakiston-Houston, Faith & Diane Atcheson, Bantem & Mark McGlinchey, Jet Two & Brendan Caldwell, Jazzy & Emma Boyd
90cm double clears
Jolene & Katie Clarke, Fyfin Ginger & Darren Preston, Penny & Lynn Russell, Growhowdy Cailan Deas & Stephanie Roulston, Blue & Katie Clarke, Jet Two & Brendan Caldwell, Pilgrim's Promise & Louise Early, Diamond Hill Ginger & Darren Preston, Sharamai & Amy Munroe,
1 metre double clears
Penny & Lynn Russell, Dude & Miranda Doherty
Other dates for your diary – 18th Annual Combined Training Competition Saturday 21stMarch at the RDA, Omagh; Working Hunter Show Saturday 9th May at Ecclesville & the Annual Summer Showjumping League Wednesdays 1st, 8th, 15th & 22nd July at Ecclesville.
Category: Eventing, News, Results, Riding Club, Show Jumping