A N Irwin & Sons was established in 1847 as an animal feed manufacturer and miller based in Co Tyrone, N. Ireland. The family owned company has been making high quality animal feed for over 150 years. Click play on the video below to hear how horses continue to be at the centre of the lives of the people behind the Blue Grass brand today.
Within the Bluegrass brand, there is a wide variety of products, each designed to satify particular nutritional needs of equines in training for specific disciplines. The products highlighted below have a dietary mix that would be suitable for show jumpers, so read on and if you would like to contact a member of the Bluegrass team, their contact details are at the bottom of the page.
COOL N CONDITION CUBES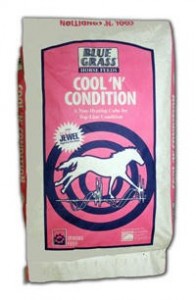 Cool N Condition is a fully balanced non-heating conditioning cube, designed to promote weight gain, show ring condition and shine.
Designed for:
Show Horses
Sales Prepping
Performance Horses
Veterans
Hard to Keep Horses
Excitable Horses
What's inside?
Fully balanced non-heating conditioning cube
Exceptionally high oil content to help promote excellent skin and coat condition
Oil also increases the energy density of the feed from a slow-releasing non-heating source, without the fizz commonly associated with high grain feeds.
RE-LEVE – THE ORIGINAL LOW STARCH FEED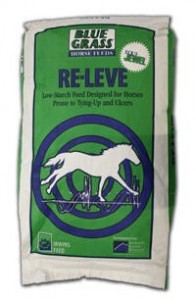 Ireland's original Low Starch feed, Specifically designed for horses in Medium to hard work, prone to or suffering from:
Tying Up
Gastric Ulcers
Laminitis
Colic
Cushings Disease
Cereal Intolerances
What's inside?
RE-LEVE is high in fibre and fat while low in starch and sugar
Provides slow release energy for improved stamina
Lowers lactic acid build-up Completely balanced with natural Vitamin E to promote rapid recovery from soreness and injury
Fortified with STAMM 30 – the industry's premium protein, vitamin and mineral concentrate
Contains EQUI-JEWEL, an energy dense, high fat rice bran that increases the energy density of a ration
Natural Antioxidants
For Further information on tying up Click here.
EQUI-JEWEL
Equi-Jewel is a highly digestible and highly palatable source of fat and calories for horses.
High-Fat Stabilised Rice Bran with Calcium, Vitamin E and Selenium
Alternative sources of Energy, such as rice bran, are now very popular. EQUI-JEWEL, a high-fat stabilised rice bran supplement, increases the energy density of a ration, thereby decreasing the amount of grain necessary to fulfill energy requirements of horses during growth, lacttation or athletic performance. Replacing a portion of grain allotment with EQUI-JEWEL helps to limit starch intake and therefore assist in reduction of the risks of digestive upset often associated with excessive grain and minimal forage intake. To achieve superior coat condition, Equi-Jewel can be supplemented to horses of all ages.
Feed Fact: EQUI-JEWEL is an energy supplement, which should be added to grain and chaff.
Benefits:
Increased Weight Gain
Improves Top Line
Better Coat
Energy Mj/Kg Fibre % Oil % Protein % 18 13 18 13
Research Proven 
In a recent scientific study conducted by Kentucky Equine Research the effects of feeding Equi-Jewel and corn oil were compared. During Strenuous excercise, horses fed Equi-Jewel had lower lactic acid levels than horses fed corn oil. The inclusion of rice bran as a substitute for corn oil in rations also resulted in lower heart rates and subsequent shorter recovery periods.
TRANSFORM CUBES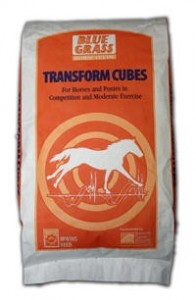 Transform Cubes are non heating, with high quality vegetable oil and an Optimum level of vitamins to encourage healthy, shiny coats & all round condition.
Designed for:
Horses and ponies in medium work
Showjumpers
Eventers
Driving Horses
Horses requiring extra condition
What's Inside:
Non Heating, Palatable Pellets
High Quality cooked cereals processed to improve digestibility
High quality vegetable oil to encourage healthy, shiny coats and all round condition
Optimum levels of Vitamins and minerals
Slow releasing super fibres
Minerals which promote healthy hoof growth and a shiny coat
Bioplexes which enhance absorption and availability of nutrients, and aid effecicient muscle function.
KER Supplement
STAMM 30 – THE ULTIMATE BALANCER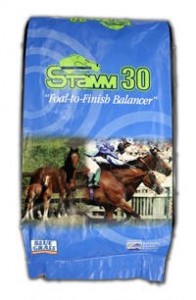 Stamm 30 utilises proteinated trace minerals to increase the bioavailability of these critical elements needed for proper skeletal development and maintenance of the horse.
DETAILS
The Ultimate breeding & performance Balancer
Stamm 30 is very easy to use in conjunction with any type of feeding programme or management application
it can be fed with Oats or other unfortified grain to provide 'balanced' nutrients for horses of all classes and ages
It can be mixed with sweet feed or pelleted rations when additional nutrient fortification is needed
it can be fed as a 'top dress' for performance diets when the stress of High levels of physical activity requires the maximum level of nutrient fortification
Improves muscle strength
Helps muscle building
Enhances basic feeding
Low Calorie for overweight horses
Better all round health
Faster muscle recovery
Enhanced Vitamin E Properties
Designed For:
Weanlings
Yearlings
Gestating & Lactating Mares
Stallions
Performance Horses
Horses who need to Lose weight
Laminitis
What's inside?
Stamm 30 utilizes proteinated trace minerals to increase the bioavailability of these critical elements
Magnesium requirements are higher for horses with a stress load or demanding physical regime. A proprietary bioavailable form of magnesium is added to Stamm 30 to increase muscle strength and structural integrity of the skeleton, as well as enhance the blood clotting factor.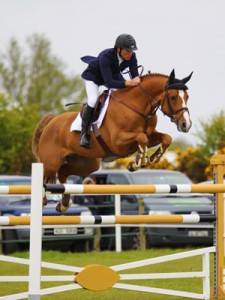 Research has shown that natural sources of Vitamin E have greater bioavailibility than synthetic or manmade sources. In a study of Thoroughbreds in training, natural Vitamin E was found to be 180% more bioavailable than synthetic forms of the Vitamin. Among other Physiologic responsibilities, Vitamin E contributes most generously to the horse's antioxidant defenses. Antioxidants are especially important to equine athletes because they are thought to help horses recover more quickly from muscle soreness following intense excercise. Stamm 30 incorporates this revolutionary form of vitamin E.
Recently approved for use in equine diets, selenium yeast is a highly available form of the essential element which is included in Stamm 30.
Studies done on Excercising Thoroughbreds supplemented with Selenium yeast indicated that horses had a higher retention rate that those supplemented with the inorganic form of selenium.
Category: Business Features, Disciplines, Features