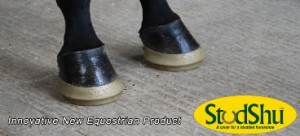 StudShu is an innovative new equestrian product with Patent Pending. The unique design means the cover is held securely in place without the need for fastening devices of any kind. They simply Push On and Peel Off in seconds
What is it?
StudShu is a protective cover for a studded horseshoe, allowing the hoof to stand level and balanced on hard surfaces – Horsebox – substantially reducing abnormal stress on the pedal bone, coffin joint and navicular area.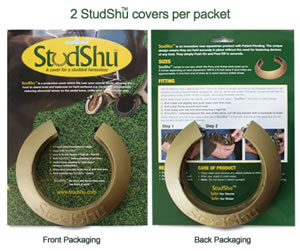 Uses
For the first time you can now fit studs before travelling, safely cover them with StudShu and travel to the Show. On arrival, simply remove the covers and you're ready to go. Also between rounds/competitions, you can refit StudShu and return the horse to the box.
StudShu Creation
StudShu was invented and developed by a horse owner from Co Down, Northern Ireland, who has over thirty years experience as a breeder and producer of young horses for Show Jumping and Eventing. Attending shows on grass arenas, he identified a problem with the fitting of studs to horseshoes. He wasn't trying to change this well tried and tested method of providing grip, but to make the process easier and safer for both horse and rider.
It can be difficult to fit studs to the shoes of a young or excitable horse at a Show. The horse may not stand quietly while you go through the whole process involved with the fitting of eight studs.
Potentially dangerous process
Dirty
Time consuming
Between rounds/competitions, horses are returned to the box and left to stand for long periods with studs in, with the associated risk of injury to themselves and others, as well as possible damage to the vehicle.

Solution
Fit the studs before travelling, when the horse is in its own stable and is calm and relaxed.
Cover with StudShu
Easily fitted and removed
Hoof is level and balanced. No stress to joints and tendons
StudShu offers protection from pointed studs
Care Of Product
Wipe clean and remove any debris before re-fitting.
After use, wash in cold water.
Note: Do not leave in direct sunlight
Where can you get them?
You can buy directly from www.studshu.com by clicking here
Or contact us during working hours to find out where our stockists are located on 028 406 22658
A few testimonials from Competition Riders…
"I have been using StudShu for a few weeks now. The horses travel well wearing them and I love the fact that they are standing level and studs protected while waiting for the different phases of the Event. Great idea."
Suzanne Jordan 3* Event Rider (Pictured right)
"I work mostly with young Event horses preparing them for their competitive careers and anything that makes life easier at Shows with these youngsters has to be a bonus. StudShu does just that. Why had no-one thought of doing this before!" Jonny Hagan Event Rider


I have a horse which is really difficult to fit with studs at Shows, so much so, that on occasions I have resorted to travelling him with studs fitted, legs bandaged and standing on a bed of shavings in the lorry. When I heard about StudShu I couldn't wait to try them. Our first Show on grass was a three hour journey away. The horse travelled well, StudShu were great and we won the 1m.10 Working Hunter Championship. Have been using them ever since and think they are brilliant
Caroline Gibson Co. Down. Show Jumping Rider. Level 4 yo up to 1m.30 also compete in Working Hunter.
To keep up to date with our news and for further information on the product, please join our new facebook page and stay in touch by clicking here.
Category: Business Features, Disciplines, Features, Products