Drumaknockan House Stables - William Greene
Drumaknockan House Stables is situated on 90 acres of picturesque countryside in Hillsborough and is easily accessible from the A1 making it a prime location for those travelling from Lisburn, Belfast, Dromore, Banbridge, Ballynahinch and Hillsborough.
It boasts a large 'American Style Barn' making the stabling light and airy containing 14 12×12 stables with automatic drinkers and high low hayracks. The secure tack room consists of individual tack lockers for each client ensuring that valuables and belongings are kept safe at all times. The hot water wash bay with solarium makes getting ready for shows easy, no need for buckets of hot water and a sponge!!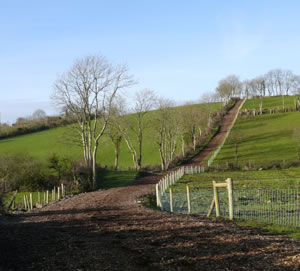 The facility also includes the use of a 2km off road ride and gallop for their clients which is great for getting horses fit or for generally just having a bit of fun!! These tracks can also be used by the general public at £10 per horse / pony. Should you prefer to hack a bit further, the surrounding quiet country roads make ideal hacking routes with many to choose from.The 60m x 35m sand arena is flood lit and full enclosed with ranch fencing (pictured right)
There are 3 different livery packages on offer at very competitive rates, please contact William for further details on 077 321 43189 or you can visit and join our Facebook page where we have lots of photographs of the yard and facilities.
The yard consists of: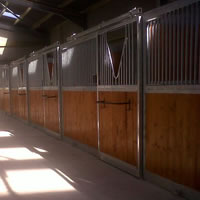 '
American' style barn with 14 12×12 stables
Automatic drinkers
High low hay racks
Individual Tack Lockers
Hot Water Wash Bay
Solarium
60×35 Sand Arena with Full Set of Jumps
2km Off Road Ride
5 Furlong Hill Gallop
All Year Turn Out
Quiet Hacking Routes
Kitchen/Social Area
Shower and Changing Facilities
Car, Lorry and Box Parking
This business has a family history steeped in horsemanship so here's a little about the man behind the business…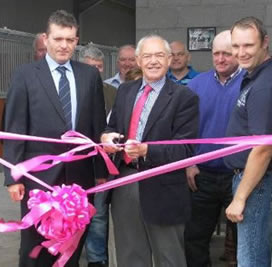 Drumaknockan House Stables is owned and managed by William Greene.
Last year grant assistance enabled William to develop a new equestrian centre, featuring a highly popular off road trekking facility with hill gallop and a purpose built 'American Style Barn' with 14 state-of-the-art livery stables. Here William tells us a bit of the history of Drumaknockan House and how his grandfather played a big roll in his life and where he gained his experience through the years.
Pictured right are L-R Peter Shortt, Lagan Rural Partnership, Aldermann Jim Dillon, Roger Graham of Grahams Contracts Ltd and William Greene.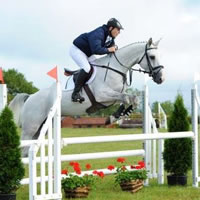 Drumaknockan House has been in the Mitchell family for 150 years and was passed down to William by his late grandfather Mr Billy Mitchell.
Billy was a keen horseman and was well known by his piers for his wealth of knowledge within the equestrian world. He bred many successful show horses including 'Hard Gloss' pictured left, as well as show jumpers and hunters, this breeding density has also been passed down to William and has become the foundation stock of the Drumaknockan House breeding program.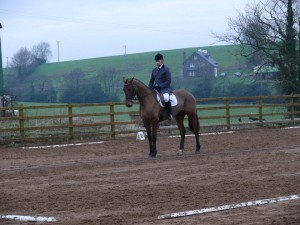 William owes his vast knowledge of his horsemanship to his grandfather, as he was the one who taught him to ride and care for horses from an early age. Pictured right: William (aged 10) and the infamous 'Sadie' (aged 10) on their way to winning one of many cups presented at Mossvale Equestrian Centre encouraged by grandfather. (Sadie is still jumping strong, having won the 2012 charity schools jumping title under the careful direction of young rider Hannah Agnew.)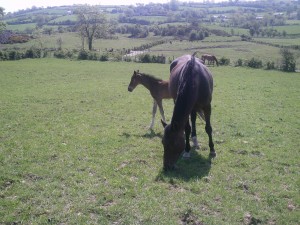 William also studied at CAFRE, Enniskillen for 5 years where he completed his FdSc degree in Equine studies and a National Diploma in Horse Management.
While studying at CAFRE William competed at the International Intervarsity's in Philadelphia and the World Young Breeder Championships in Denmark, representing the Irish Horse Board, he also gained valuable work experience with Clem McMahon and Andrea Etter at Belmount House Stud, riding many of their top show jumping horses.
After CAFRE William travelled to Belgium where he trained with Marcelle Romborts, for 2 years, here he gained valuable experience jumping Grand Prix horses on the Belgium National Circuit. This is also where he sourced some of his own top horses including, 'Union Jack' (pictured above) who is one of Drumaknockan's resident stallions and his grand prix showjumper 'Axel B', (Pictured below right).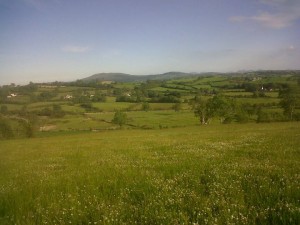 William currently has many young horses in training including the other resident stallion 'Edentrillick Maximus' a 5 year old by 'Loughern Connaught', out of William's grandfathers mare 'Spring Delight' and also in training and proving to be a great eventer is 'Edentrillick Levi' a 6 year old gelding by Cyrano and also out of 'Spring Delight by hunters delight.
When stabling at Drumaknockan House, your horse receives the attention of 24/7 on site experienced personnell allowing you to enjoy peace of mind.
William also provides lessons and schooling services for riders of all ages and abilities, should you want to improve your own riding skills or school your horse from breaking to competitive tuning.
The facilities are second to none and this luxury livery yard provides services to suit every level of horse owner, from leisure riders, to competitive owners.
William Greene 0773 214 3189 Drumaknockan House Stables, 9 Drumaknockan Lane, Hillsborough, County Down, BT26 6QS, or visit us on Facebook by clicking here
Category: Business Features, Equestrian Holidays, Equine Living, Features