Wow !!!!– BHS Ireland Adult Summer Camps 2012
What fun we all had – both horses and riders!!!!.

The first of the camps at Kildalton College, Co Kilkenny Camp at the end of May may have been small but it was superb and everyone left feeling really happy.  Faith Ponsonby BHSI, Trish Lalor BHSII, T, SM and Rosemary Gaffney BHSI were brilliant and all had a good time.
The new venue was superb for the seven BHS Ireland Adult Summer Camps at Enniskillen Campus, Co Fermanagh during June.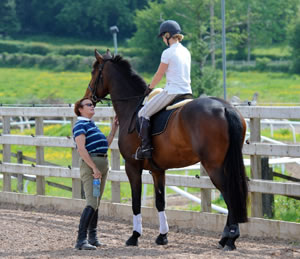 The facilities included a newly surfaced indoor school of 25m X 40m, a large outdoor of 50m X 70m which was divided in two and a large sand arena.  Everyone was pleased with the arenas and with the compactness and ease of use of the Enniskillen Campus site.  Stabling was large and airy in two blocks and good hay and haylage was provided.
The view of the lake, with lakeside irises and wildlife, which included ducks and swans was really spectacular and added to the feeling of country.  Whilst the circular wood chip "walk and trot track" or circular gallop was a great favourite for both warming up and cooling down and of course a small amount of safe hacking was also available on site.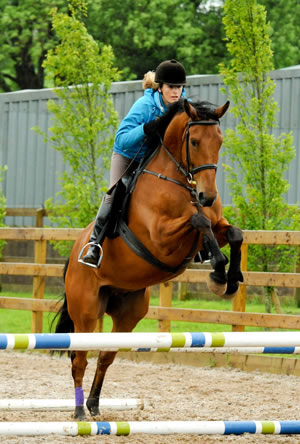 The programme of events included lectures on "Equestrian Terminology", "The Anatomy of the Horse" and "The Basics of Lateral Work", which was followed up by a ridden demonstration of lateral work by Mandi King BHS II SM. Thanks to our lecturers Alison Mastin Moore BHSI, Jo Winfield FBHS and Laura Smyth.
Two lessons a day were offered consisting of a mixture of flatwork, jumping and cross-country.  And of course the instructors were all brilliant and included Mandi King BHS II SM, Bergie Prakken BHSI, Alison Mastin Moore BHS I, Jo Winfield FBHS, Patrick Print FBHS, Donald Kear BHSI, Colwyn Griffiths BHSAI (Int T).
Campers were able to avail of yoga stretching, with Gabriele Tottenham of Innishbeg Cottages, Blaney Spa and Yoga Centre, on two mornings of each camp which helped with aches and pains and assisted with the development of a good riding position.
The entertainment on the evening of day two was mainly music and singing with a bit of dancing thrown in.  We had some very talented people and many good tryers!!!
But of course the highlight for all was viewing the superb photographs taken by Andrew Towe of Parkway Photography (www.parkwayphotography.co.uk) and the action video by Susan Irwin on the evening of day three.
Comments from happy campers showed just how much fun was had by all:-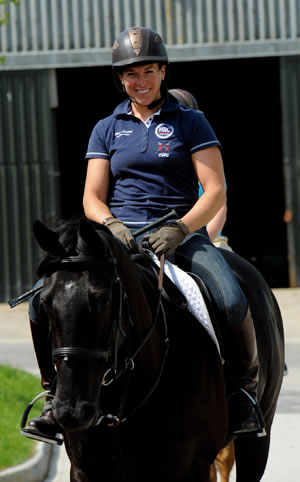 Just home from an amazing camp at Enniskillen College. Excellent instruction and company -and an amazing pony !!!  Many thanks to all involved – including the photographer- Andrew Towe of Parkway photography. Roll on camp number 2. — with Mandi King, Jo Winfield and Susan Irwin
Well done Susan for the amazing 2012 BHS summer adult camps – nearly a month of activity – fantastic to teach along with so many great instructors and to meet old and new friends
Thanks Susan for a brill weekend. Had a ball and cannot wait until next year, if I ever recover from this one
Thanks Susan for a brilliant weekend at camp – it was our first time and didn't have a clue in what to expect and I have to say it was 100% times better than what we thought it would be – had a ball, met new friends, instructors were brilliant, horses were well behaved and most of all the craic was fantastic – can't wait until next year
Thanks to Susan and the rest of the team for a lovely break at Enniskillen Campus with my horse. Had a lovely time, especially the irish dancing!!
Fab fab fab-cant wait for next year! Huge thanks to Susan and the team for a wonderful time both on and off the horse!
Many thanks Susan for a fabulous camp. It was priceless.
Just back from camp – had an absolute ball! Met loads of new friends and the instructors were brilliant – thanks to everyone for organising it. Xx
Thank you very much for organising such a good camp for us.  It was well worth waiting for!! My third attempt to join.  The instructors were excellent, facilities superb and I enjoyed meeting many new people.
You still have one more chance this year to attend a BHS Ireland Adult Summer Camp – the last one of the year is from 23 to 26 August at Gurteen College, Co Tipperary.
(Please remember you must be a BHS Gold Member to attend!)
To discuss further please contact Susan Irwin, BHS Development Officer for Ireland. 
Email: s.irwin@bhs.org.uk, Phone: 0044(0)2892683801, 
Mobile: 0044(0)7808141079
Find us on Facebook 
Website: www.bhsireland.com
Category: Business Features, Equestrian Holidays, Features