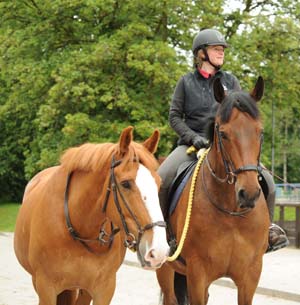 The British Horse Society (BHS) is a charity which is dedicated to improving the lot of every single horse and its rider. Our logo strap line is Fulfilling your passion for horses and we aim to do this under many different headings. I would say that education is at the heart of everything that we do. Susan Irwin, Development Officer for the British Horse Society. I, Susan Irwin, am the BHS Development Officer for Ireland and I am passionate about what I do. I hope you enjoy and find benefit from this article. If there is anything you need clarification on please do not hesitate to contact me.
This article provides information under the following headings. When I wrote it I was proud to remember that the British Horse Society and within that the British Horse Society Ireland does a lot of good work.
Contents (Click links below for quick view)
BHS Examinations and Qualifications
BHS Register of Instructors and Grooms
BHS Ireland Learning with Horses courses
From BHS Ireland Learning with Horses course to the BHS Progressive Riding Tests
Education and Training Courses
BHS Ireland Adult Summer Camps
Welfare through Education and Information
Off Road Horse Riding
Safety
BHS Approved Establishment Scheme
Horses Welcome
British Riding Clubs
Communication with BHS Ireland Members
Membership of the British Horse Society
Contact BHS Ireland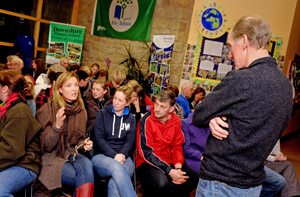 BHS Examinations and Qualifications
The BHS provides one of the best examination systems in the world and is made up of vocational examinations and qualifications which are recognised internationally. Each award follows an established, tried and tested method of exploring candidates' equitation, coaching and stable management skills which is unsurpassed anywhere in the world. BHS exams are not only held at Examination Centres throughout the UK and the Republic of Ireland but we also have centres in the USA, Hong Kong, Italy and Singapore.Eric Smiley FBHS at an educational lecture on 'Bitting' in Hillsborough, Co. Down.
There are a number of BHS examinations towards which you can work, depending on your aspirations.
(Equestrian Qualifications GB Ltd is a subsidiary of the BHS but stands alone in its remit to award equestrian qualifications. EQL is an Awarding Body recognised by Ofqual and, as such, must comply with a range of conditions, including robust assurance for developing and awarding qualifications.)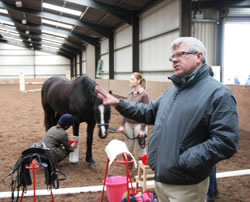 If your aim is to become a Riding Instructor/Coach then you should aim towards completing the BHS Stages Exams click here to view a diagrammatical pathway pdf. Further information is available on www.bhs.org.uk under Training and Qualifications click here to visit website.
If your aim is to learn more for the benefit of both you and your horse then either the BHS Stages Exams or perhaps the BHS Horse Owners Certificate may be for you. The BHS Horse Owner's Certificates are offered at four levels of knowledge with regard to the care and management of the horse – but you don't need to own a horse to sit them. Each level will be assessed in the form of a written paper under exam conditions. Courses are held within Northern Ireland.
If your aim is to work in the Equestrian Tourism industry we also provide the Equestrian Tourism Exams. These examinations are seen to be necessary for anyone wishing to work at a holiday riding centre or taking out hacks. There are three levels of equestrian tourism exam – Assistant Ride Leader, Ride Leader and Riding Holiday Centre Manager. If you hold the complete BHS Stage 2 exam you can turn your BHS Stage 2 exam into an Assistant Ride Leader Qualification by the completion of a simple half day exam.Patrick Print OBE FBHS Presenting BHS Stage 1, 2, and lungeing course at Laurel View Equestrian Centre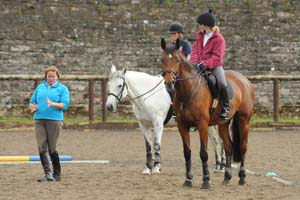 As part of both the BHS Stages Exams and as a recreational exam we offer the BHS Riding and Road Safety Test. This test is taken by more than 4,000 candidate a year and helps educate riders in road safety in order to minimise the risk involved when riding on the roads. The test is available to all riders from 12 years of age and is supported by the Department of Transport.
As part of the BHS Stages exam system the BHS Riding and Road Safety Test must be achieved prior to sitting the BHS Stage 2 exam. Training and tests are held throughout Ireland on a regular basis.
Work based diplomas replaced National Vocational Qualifications (NVQ's) in England, Wales and Northern Ireland from 1 January 2011. Assessment takes place either in the workplace or in an approved assessment location on a continuous basis. At present no Work Based Diplomas take place in Northern Ireland.
UKCC (Endorsed) Certificates in Coaching
EQL awards Equestrian Coaching Certificates on behalf of the British Equestrian Federation. If you are interested in the UKCC Coaching Certificates you should contact a UKCC Centre, a list of EQL Approved Centres is on the EQL Website, click here to view equestrian-qualifications.org.uk.
Before embarking on a career with horses it is important to select carefully your place of training. While it is not obligatory for candidates to be trained at a BHS Approved Centre, we strongly recommend it. Details of Approved BHS Training Centres can be found on our website, www.bhs.org.uk. Alison Mastin Moore BHSI teaching at BHS Ireland Adult Summer Camp 2011.
To view the examinations syllabi and guidelines, or to find out how to enter for BHS examinations, please visit our website at www.bhs.org.uk, call the Examinations Department on (0044)(0)2476840508, or send an email to exams@bhs.org.uk.
Further information on training opportunities within Ireland is available on www.bhsireland.com – look at our BHS Ireland What's On Leaflet.
BHS Register of Instructors and Grooms
Once you have gained sufficient BHS Stages Exams, a minimum of BHS Stage 2 and the Preliminary Teach Test, you can join the BHS Register of Instructors and Grooms. This has been set up to benefit both qualified instructors, grooms and the general public. There are an increasing number of unqualified people who are professing to hold BHS qualifications and it is patently unfair to both those who hold genuine qualifications and the general public that this situation should be allowed to continue. When you join the register, you join a credible list of professionally qualified instructor or grooms who have gained internationally recognised qualifications.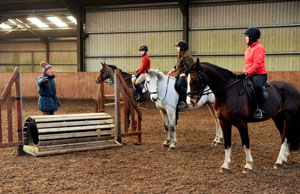 In addition to the minimum qualifications required, all new applicants to the Register of Instructors must complete:-
• A Criminal Records check – this is processed by Access NI in Northern Ireland and administered for the BHS by Susan Irwin, BHS Development Officer for Ireland.
• A current Safeguarding and Protecting Children Certificate. This 3 hour course is organised by Susan Irwin, BHS Development Officer for Ireland.
• A current First Aid Certificate – certificates accepted by the BHS are the BHS First Aid course issued jointly by the BHS Ireland and Browne McKee Partnership or the full three day/two day refresher First Aid at Work or Occupational First Aid course. Please note, we do not accept any other type of first aid certificate that are equine specialised other than the BHS course.
• Once accepted onto the register, instructors are required to complete a Continual Professional Development Training (CPD) day every two years to keep their training record up to date. CPD courses are organised within Ireland three times per year in a variety of locations – details can be found on our website www.bhsireland.com.
• The benefits to the BHS instructor include optional Public Liability Insurance for freelance teaching up to £10 million. This will cover the instructor but not the premises that are being used.
• Personal Injury Insurance – this covers an accidental bodily injury which results in permanent injury up to £100,000.
• The optional addition of the Care, Custody and Control insurance provided cover for any horse subject to a limit of £10,000 for any one occurrence of any such animal and also any saddlery and/or tack subject to a limit of £5000 for any one occurrence in respect of such property.
(Further information on the insurance policies is available)
Further information on the BHS Register of Instructors can be found here
BHS Ireland Learning with Horses Courses
The BHS Ireland 'Learning with Horses' course has been developed to allow young people, between the ages of 9 and 18, to develop better life skills – improved confidence, teamwork, communication and problem solving.
We are particularly interested in working with young people who are experiencing difficulties integrating into the current education system. We aim to provide a means to develop the confidence and skills to reintegrate and move forward in a positive way.
The course syllabus provides a structure, which not only allows these personal skills to be developed, but also commences basic sound equestrian education. This could lead to further training, qualifications and a profession within the equestrian industry.
This is a practical course and is especially recommended for those whose needs have not been met by mainstream services and who are often at risk from social and/or economic exclusion. It will help assist development of personal awareness, emotional growth, relationships and trust. With help from horses, participants achieve a memorable, hands-on opportunity to learn these skills in a way that can easily be transferred to their daily lives.
Through working together with horses participants soon learn how attitude and body language impact on those around them, and can affect their overall performance. Accomplishing tasks with a large and powerful animal will instil confidence and self-assurance, which the learner can bring to other challenging and intimidating situations in their lives.
The 'Learning with Horses' course is a six week, two hour course for eight students, and is aimed at young people with little or no experience of horses.
On successfully completing this six week course each participant will receive a BHS Ireland 'Learning with Horses' certificate, and future training possibilities may be planned.
The course is facilitated by an instructor from the BHS Register of Instructors and takes place at a BHS Approved Riding School.
From the start of the initial Learning with Horses Course in October 2010 to the end of 2011 BHS Ireland has been able to assist 96 young people. In 2012 we have two courses in progress with a further 16 young people involved.
We must thank our funders Sport NI, The Santander Foundation, Victoria Homes Trust and the Big Lottery (Awards for All NI) for their invaluable assistance.
From BHS Ireland Learning with Horses course to the BHS Progressive Riding Tests
The lovely thing about the Learning with Horses courses is that we can assist those young people who are particularly keen to progress further within equestrianism and we have currently organised 5 BHS Progressive Riding Tests as a development from the Learning with Horse course. The BHS Progressive Riding Tests are another BHS qualification which can be offered by a BHS Approved Riding School to their clients and comprise equitation and stable management at a number of increasingly more difficult levels.
Who to Contact regarding the BHS Learning with Horses Courses:-
Shelagh Laird, BHS Riding Schools Inspector for Ireland
26 Hollow Road, Islandmagee, Larne, Co Antrim, BT40 3RL
07711664096/shelaghlaird@aol.com
Education and Training Courses
BHS Ireland offers access to a wide selection of educational opportunities throughout the year. Eric Smiley teaching indoor cross country lessons at Laurel View Equestrian Centre.
We offer educational lectures on a wide variety of topics from top educators Alison Mastin Moore BHSI, William Micklem FBHS, Eric Smiley FBHS plus professionals in their own area of expertise – farriers, vets, motivational training. We also offer lessons with inspirational instructors such as Eric Smiley FBHS, Jo Winfield FBHS and Patrick Print FBHS as well as Examination Training opportunities. We also organise the BHS First Aid Courses and the Safeguarding Children in Sport courses – both of which are a requirement for the BHS Register of Instructors.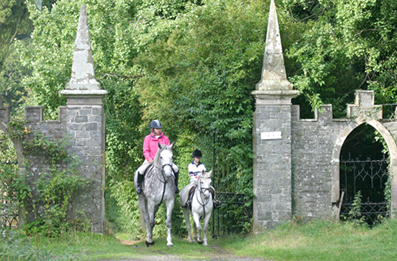 BHS Ireland Adult Summer Camps
We are particularly proud of our adult summer camps which are available to BHS Gold members. These have grown in number and size over the past 10 years and now on average there are 9 camps held throughout Ireland during May and June.
These camps have all the key features to make for a thoroughly enjoyable and educational experience for both the horse and the rider. Laughter is very important as well as learning – highly motivated and talented instructors teach and guide in a supportive manner – lessons are kept small to facilitate learning – talks and demonstrations are built in as part of the program – food and accommodation is good – and if the opportunity presents there is dancing, photographs and videos of campers on their horses are on show in the evenings.
Bookings are now being taken for the 2012 BHS Ireland Adult Summer Camps. The cost is £335 per person per camp.
These wonderful summer camps are suitable for all levels of rider and horse. BHS Gold members bring their own horse and enjoy having lessons with inspirational instructors.
Each camp provides the following:-
• Three days comprising of two lessons per day per person, these could be flatwork, jumping or cross-country. Lessons are organised to suit each individual rider and the groups are kept small with excellent instructors.
• Hacking (If available at venue)
• Yoga stretching for two mornings at the Enniskillen camps.
• Lectures and demos on a variety of topics
• Evening entertainment, which may include some dancing
• All meals and accommodation for three nights and three days.
• Stabling, bedding, hay/haylage
• You need only bring hard feed for your horse and any alcohol you may wish to consume.
• Great fun!!
• All campers must be at minimum of 18 years of age and must be Gold Members of the British Horse Society
Camp Dates for 2012
Kildalton College, Piltown, Co Kilkenny
Camp 1 – Monday, 14 May to Thursday, 18 May 2012
Enniskillen College, Enniskillen, Co Fermanagh
Camp 2 – Thursday, 31 May to Sunday, 3 June 2012
Camp 3 – Monday, 4 June to Thursday, 7 June 2012
Camp 4 – Thursday, 7 June to Sunday, 10 June 2012
Camp 5 – Monday, 18 June to Thursday, 21 June 2012
Camp 6 – Monday, 21 June to Thursday, 24 June 2012
Camp 7 – Monday, 25 June to Thursday, 28 June 2012
Camp 8 – Thursday, 28 June to Sunday, 1 July 2012
Gurteen College, Co Tipperary
Camp 9 – Thursday, 23 August to Sunday, 26 August 2012
Welfare through Education and Information
BHS Welfare aims to prevent cases of cruelty and neglect through education. This is achieved through training events and educational lectures, welfare volunteers, advisory literature (see list below) and a team of experienced and dedicated staff who handle all your enquiries.
Useful Leaflets- these are available through our websites
Off Road Horse Riding
The BHS actively works to improve equestrian access to off road horse riding. With the increased dangers of riding on the roads improved access to off-road horse riding is a priority. However it is a very difficult thing to improve, as we in Ireland have weak legislative powers and our land ownership is split into so many small parcels.
However we continue to look for opportunities and we provide details of all available places to ride within Ireland on our website click here to visit bhsireland.com
BHS Ireland has created and manages one Equestrian Toll Ride at the picturesque privately owned Greyabbey Estate in Co Down. This Toll Ride is open to membership by BHS Gold Memb ers and provides access to a purpose built trail of 6.5km in length. The cost of annual membership is only £35 plus a £10 deposit for an individually numbered hatband. This trail is open 1st March – 1st October 8.30am -8.30pm (Sundays from noon). The remainder of the year it is open on Sunday afternoons from noon.
The membership form is available on our website, click here to visit bhsireland.com.
Safety
We campaign for and provide information on all things regarding safety.
We provide Riding and Road Safety Tests (as detailed within the Examinations section), we provided information on current hat and body protector standards and have a new accident record website click here to view horseaccidents.org.uk
BHS Approved Establishment Scheme
The aim of the scheme is to give those who ride or who wish to learn the confidence that they are chosing a riding centre that maintains high standards of customer and horse care. Those approved under the scheme enjoy wide-ranging support, advice and promotion of their businesses. The BHS Approval plaque is a recognised standard for quality and care.
An equestrian establishment is welcome to apply BHS Approval. Whether you are a small or large riding centre, stud, showing yard, livery yard, trekking centre or facility centre, we welcome your application.
If you would like to discuss the Approvals Scheme in further details, please contact our Approvals Department on 0044 (0) 2476840509, email approvals@bhs.org.uk or visit our website.
Horses Welcome
Take your horse on holiday
Horses Welcome is the first quality assured accommodation scheme for horses in the UK.
You can relax in these wonderful locations varying from hotels to farmhouses, pubs to B&Bs, safe in the knowledge that each property has been assessed by the BHS to make sure it is of a suitable standard to ensure your horses needs are catered for. We will not promote properties that we would not be happy taking our own horses to. It's that simple. Click here to visit our website horseswelcome.org.
Our website will help you plan your route and book your holiday.
You will find a detailed description of each property to give you a clear picture of the type of accommodation and facilities to expect for your horse. Enjoy the welcome of like-minded people who know how to look after a tired but contented horse and rider!
British Riding Clubs
The British Riding Club movement is an integral part of the British Horse Society. In Northern Ireland it is known as Northern Ireland Riding Clubs. Further information can be found on www.ridingclubs.org or www.bhs.org.uk. Click here to visit ridingclubs.org, and click here to visit bhs.org.uk
Communication with BHS Ireland Members
Continuous communication on what is happening within the British Horse Society and BHS Ireland is available through the following mediums:-
British Horse Magazine (sent bimonthly to BHS members)
Websites – www.bhs.org.uk and www.bhsireland.com
What's On BHS Ireland – bimonthly leaflet sent to BHS Ireland members listing events organised, click here to view latest leaflet.
Facebook
Enews – for those that want it.
Membership of the British Horse Society
The British Horse Society (BHS) is the UK's largest and most influential equestrian charity. (www.bhs.org.uk, www.bhsireland.com)
Gold BHS members receive personal liability insurance cover up to £10 million and personal accident insurance cover up to £15,000 as part of their membership package. This insurance is accompanied by all the information and educational opportunities as outlined above. I hope if you are not already a member you will be soon!!
You can join via our website or contact the membership department on 0044 (0)2476 840506.
BHS Ireland Contact:-
Susan Irwin, BHS Development Officer for Ireland
60 Windmill Road, Hillsborough, Co Down, BT26 6LX
02892683801/07808141079/ s.irwin@bhs.org.uk
Category: Business Features, Features, Training