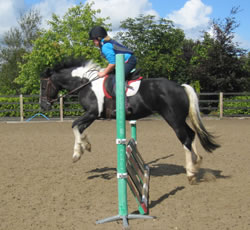 Its start of a new season here at Meadowvale and we are full of fresh ideas for the spring and summer of 2012.
Our packed schedules will start with an Annual Easter Camp and Thursday night show jumping league, with an optional training sesion prior to the start of competitions. This is a popular service as it encourages learning and allows our customers to get the most from their competition.
We are also in the process of forming our own pony club which will provide our enthusiastic riders with lots more opporunities to compete and gain certificates in riding and horse care.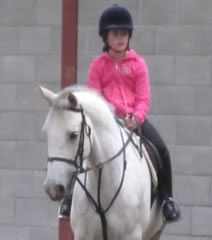 We also provide ponies for those who do not yet own thier own, making sure that everyone is included in the fun and education offered at Meadowvale Equestrian Centre.
We have riding and road safety courses which provide valuable training for all ages and also lead on to an exam for those who wish to take it. We aim to provide the option of exams and progression at various levels, however Meadowvale is also a great place to go for those who simply want to spend time in an experienced yard with well schooled horses and ponies, enjoying lessons, activities and meeting new friends with similar interests!
At Meadowvale we also run regular showjumping and dresssage courses and plan to introduce a cross country course. There will be demonstrations from top professional riders aswell as our own John Higgins who will be demonstrating horses from the early stages of thier careers right through to grand prix level this summer. There has been a strong demand for these demonstrations already and we are looking forward to them as much as our regular pony and horse riders at Meadowvale Equestrian Centre.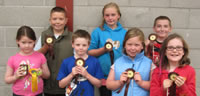 We have fantastic modern facilities and are ever growing our team of school master horses and ponies. Our aim is to provide horsemanship from the ground up.
We are well equipped with a full size indoor arena and two out door arenas to ensure there is always a safe place to school and have lessons.
We have a large selection of loose boxes with wash bays and heated tack rooms alongside solairums for the horses and a large horse walker. Our yard is based in Magherafelt and with experienced personnell on the premises 24 hours a day we can ensure every horses need is catered for.
Along with our 'Own a Pony Days' and abundance of courses, demonstrations, leagues and club activities all listed above, we also offer superb livery facilities with DIY, Part and Full livery on offer.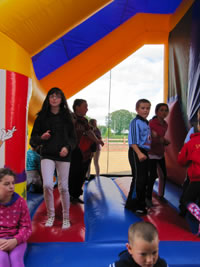 All arenas are available for hourly hire and our Saturday riding lessons are as popular as ever with private and group lessons available for various ages. (minimum age of 5 years old.)
We keep in touch with our customers via our facebook page which you can visit by simply searching for Meadowvale Equestrian and our yard is based on Luney road, less than 1 mile from magherafelt,just off the desertmartin road.
For further inforamtion and bookings contact:
07708361806
07864313398
07834023504
Category: Business Features, Features, Training