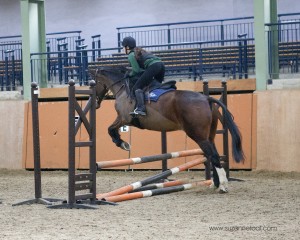 Castle Leslie Equestrian Centre, located in Co. Monaghan strides forward, once again, through expansion of its equestrian provision, to offer British Horse Society approved training courses to Assistant Instructor level.  It is also a fully approved British Horse Society Examination Centre, to facilitate examinations for the Stage Examinations and that of Equestrian Tourism.
In 2014, the Equestrian Centre gained further recognition as a trainer for the Louth Meath Education and Training Board, and a fully funded 49 weeks full time training programme commenced at the world class facility, on 8 December 2014, for 20 trainees.  Their target is to achieve all the British Horse Society examinations towards the Assistant Instructor Award by the end date of 13 November 2015, as well as to obtain their International Licence as recognised trainers.  This will provide the opportunity to access a breadth of experience of employment at equestrian facilities abroad.  The course is the first of its kind in the North West area.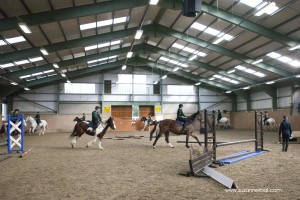 The Trainees have a daily programme of stable management, riding, lunging, horse husbandry, equine science and nutrition, all delivered by highly qualified instructors and utilising outstanding facilities.  Their immediate target is the BHS Stage I Examination and the Riding and Road Safety Test, both of which take place in the coming weeks.  The Trainees are fortunate to have a variety of BHS approved horses to ride and on which to gain a wealth of experience.  Their training programme is further enhanced by visiting trainers such as Lucy Adams, Mandi King, William Anderson, Jo Balcome, Shelagh Laird and Ray Buchanan, to name a few.  The Trainees will have further opportunity to apply their knowledge and skills, on a 6 weeks' full time placement programme, to take place during July and August.
Trainees on the course are coming from all over Ireland including Cork, Limerick, Longford, Louth and Donegal.  Some reside locally and those who wish to remain in the area at weekends have the opportunity to gain additional experience of the Leisure and Tourism Industry, by working at the Equestrian Centre, or participating in events that may be scheduled at weekends.

For any information related to this training programme, please contact the Castle Leslie Equestrian Centre Manager, Jenny Richardson, on 047 88535/jrichardson@castleleslie.com  or the Louth Meath Education and Training Board, Dundalk Regional Skills and Training Centre, on 042 9355717.
Category: Dressage, News, Other, Pony Club, Riding Club, Show Jumping