A new equine veterinary hospital is opening in Greenmount Park adjacent to Limerick Racecourse this Saturday. An Open Day is being held to mark the launch and showcase the premises on Saturday 27th December 2014 from 10am to 1pm. The guest of honour, Lady Harrington, who previously owned Greenmount Stud with the late Lord Harrington, will be officially cutting the ribbon at the opening ceremony which will take place at 12pm.
The hospital is located within the grounds of the old Greenmount Stud and the facility has been reinvigorated to create a centre of excellence for equine care. Offering a wide range of services including neo-natal critical care, lameness/poor performance investigations, reproductive services and with a fully equipped surgical facility we will be able to cater for your horse's every need.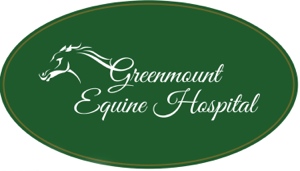 Greenmount Equine Hospital is headed up by Donncha Houlihan MVB MRCVS and Paul Houlihan MVB MRCVS. Both brothers are originally from Birdhill, Co. Tipperary and look forward to offering their combined experience to owners, trainers and breeders in the surrounding areas.
Donncha Houlihan commented "We are delighted to have the opportunity to return home and set up a dedicated equine veterinary facility in a location such as Greenmount Park which is steeped in equine history and so close to Limerick Racecourse. We are looking forward to welcoming Lady Harrington to officially launch the hospital. We would also like to extend an open invitation to anybody wishing to receive a tour of our new facility on the day and afterwards to join us in a toast to the winner of the Annual Greenmount Equine Hospital Bumper".
For more information please do not hesitate to contact the office.
Greenmount Equine Hospital, Greenmount Park, Limerick Racecourse, Patrickswell, Co. Limerick
Office: 061 513777 / 087 994 7682 Email: greenmountequinehospital@gmail.com
Website: www.greenmountequinehospital.ie
Edited with BlogPad Pro
Category: Breeding, Charity, Dressage, Driving, Endurance, Eventing, Hunting, International, News, Other, Pony Club, Product, Racing, Results, Riding Club, Sales, Show Jumping, Showing, Uncategorized