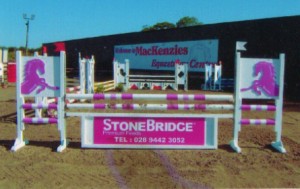 Nicholl Horsejumps started life by accident. David and Sylvia were involved with Ballycorr riding club. The riding clubs jumps were in bad need of repair and tidying up. As a joiner by trade, David asked me to take a look and carry out the repairs. We also made some new wings and fillers for the riding club. Other riding clubs got to hear about us and we started getting regular work.
We became involved with National Balmoral, David and Sylvia were course builders and we hired jumps to them for one of the arenas. We were asked to design and manufacture a jump that would be symbolic to Belfast. We thought about various landmarks and decided on the Harland and Wolff cranes. We started making them on the Thursday afternoon and had them completed and in the arena at Balmoral on the Saturday afternoon. These have been used every year since.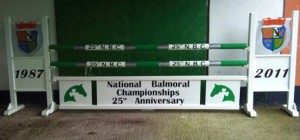 For the 25th Anniversary of National Balmoral in 2011, we designed and manufactured an anniversary jump for the occasion. We decided to include the SJAI crest in the wings and the showjumping Ireland logo on the filler. Sylvia did us proud with her painting skills. Even the poles had 25 on them.
In 2010, Paul Mackenzie from Mackenzies Equestrian Centre in Randalstown contacted us . Paul was looking a complete set of jumps. We sat down with him and played with a few ideas.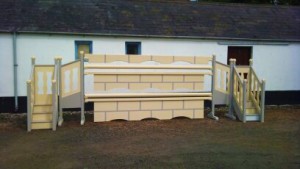 We were soon very busy starting to produce the jumps. When designing the jumps for Mackenzies we wanted the jumps to be unique, so this was time consuming. We completed the order and delivered them in August. Paul uses these jumps regularly for his shows.
Our relationship with Mackenzies had continued, he has recently ordered cavaletti's and working hunter fillers. We design, build and supply the arena party for Mackenzies registered shows.
Nicholl Horsejumps are truely a family concern, David and Sylvia can be found most weekends at shows with my son James and more recently Josh has become involved. David and Sylvia are the course builders and James and Josh are the arena party. We would be involved as course builders for shows such as National Balmoral, Banbridge show, Limavady Show, Portrush and Antrim Show. For some of these shows, Nicholl Horsejumps provide the complete package, Course design and build, hire of jumps and arena party.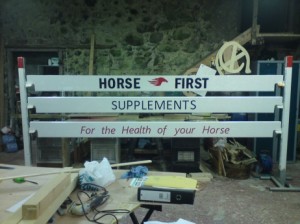 We take the design of our jumps into consideration regarding safety. I try to make all wings so as they have no exposed sharp edges. This is for both rider and horse safety. We use kiln dried softwood to manufacture our jumps, it has a better finish, lighter to move and accepts paint better.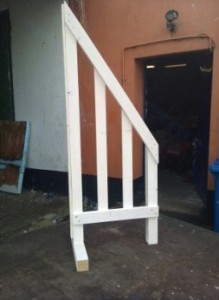 To prolong the life of the jumps and provide quality products all our jumps get treated with a clear preservative, two coats of undercoat and two coats of gloss paint. We manufacture our jumps so that we can easily remove any damaged part and replace. This saves the customer money by not having to replace complete wings.
We can design and make simple jumps or for businesses, we can make jumps incorporating your logo. At Nicholl Horsejumps we carry out all joinery work, fitting kitchens, laying wooden floors, hanging doors or putting up a garden fence. With our fully equipped workshop, we can make stable doors or internal stabling.


Recently, both David and Myself have become directors of Antrim Agricultural Society. We were given the job of making a judges box for the show, this was unveiled at the shows press launch on Monday 11th july 2012.
Contact us via Nicholl Horsejumps or
Telephone 07850143060.
Category: Business Features, Disciplines, Equine Living, Features, Products