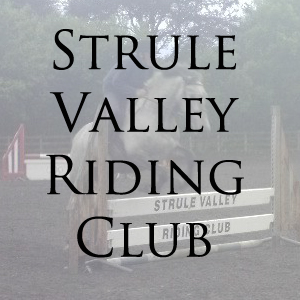 STRULE VALLEY RIDING CLUB held the 2nd night of their Annual Summer Showjumping League at Ecclesville, Fintona.  Entries were up a little on the first week. Thanks to all who came along to compete & support.  The league continues on Wednesday 15th July with the final on Wednesday 22nd July.  Combinations must compete 2 out of 3 weeks to be eligible for league prizes & perpetual cups on the final night however everyone is very welcome to come along. Show wear to be worn on the final night.
Thanks to Raymond Caldwell for building his usual flowing course, Chris Bogle judging, Jane Huey entries, Emma & Trevor King for the BBQ – money from this each week will go to Grovehill Animal Trust, Alison Donnell & Heather Beattie call up, Pearl Donnell & anyone else who helped thankyou.
Beth Thompson & Mint continued their good form jumping double clear in both the 60cm & 70cm classes.  Connor Harris & his lovely schoolmaster Willow jumped double clear in both the 70cm & 80cm classes.  Jenny Torrens had a successful show jumping 3 double clears.  Lucinda Blakiston-Houston & the very nicely schooled Gigi jumped double clear in the 80cm & 90cm classes.  Cousins Katie Clarke & Rachel Magee had a successful night jumping faultless rounds in the 90cm class & Rachel & Dougie went on to win the metre open class with Katie & Jolene close behind in 2nd place & Zoe & Gemma Elkin jumping very nicely to take 3rd place. 
Results
60cm double clears
Mint & Beth Thompson, Harvey & Heather Black
70cm double clears
Harvey & Heather Black, Midnight Rebel & Kamryn McQuade, Willow & Connor Harris, Silver & Hayden McFarland, Mint & Beth Thompson, Frosty & Ellie Trowbridge, Diamond Milly & Heather Beattie
80cm double clears
Willow & Connor Harris, Blue & Jodie Somerville, Tourka & Jenny Torrens , Rosie & Mandy McQuade, Gigi & Lucinda Blakiston-Houston, Kallie & Noel Regan, Tiffy & Jenny Torrens
90cm double clears
Gigi & Lucinda Blakiston-Houston, Botera Lad & Natasha Gilchrist, Bonnie & Eimear White, Jolene & Katie Clarke, Dougie & Rachel Magee, Harry & Alison Parkes, Sweeney & Jenny Torrens, Ben & Naomi Elkin, Blue & Katie Clarke
1 metre open
1st – Dougie & Rachel Magee
2nd – Jolene & Katie Clarke
3rd – Zoe & Gemma Elkin
4th – Bonnie & Eimear White
5th – Ben & Naomi Elkin
Category: News, Results, Riding Club, Show Jumping