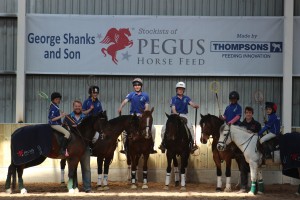 Last year Northern Ireland Pony Club Branches took The Pony Club Championships in Cheshire by storm and came out on top of the podium in nearly every competition they entered.
Polocrosse was one of their most successful disciplines and so this year, with generous Sponsorship from Pegus Horse Feeds, The North Down Pony Club Branch took on the task of hosting the Easter Polocrosse Training Camp at Gransha Equestrian Centre, where the rider's Polocrosse skills would be assessed for qualification to play in the Pony Club Championships. They got just the weather they had ordered.  It could have been the middle of summer.  The riders and spectators needed sunblock, instead of coats and umbrellas.
Two Pony Club Polocrosse Coaches, Tom Simkin and Chris Milburn, travelled from England to train the 17 riders, and were very impressed with the standard.  They worked on ball skills and tactical match play and the riders who were aged from 8 to 17 went away with lots of new practice exercises, full of enthusiasm for the season ahead.
The Coaches assessed the Pony Club members over the three days and nine players qualified to go to The Championships in Cheshire in August, six of those will also be representing Northern Ireland in Pony Club Home International in Wales in July, while the three youngest riders achieved their Intro To Polocrosse Badge.
With thanks to Pegus Horse Feed, Coaches Tom and Chris and the Fleming Family who made them so welcome during their stay and Adrienne Stuart at Gransha Equestrian Centre for use of her terrific facilities, Northern Ireland Pony Club Polocrosse is looking forward to more great success in the coming year.