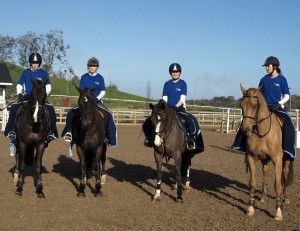 CAFRE is hosting a Rider Development workshop on Friday 3rd October at Lusk's Equestrian Centre, Lisburn, BT27 6YB. The workshop will include demonstrations of horses and riders and talks on rider asymmetry, balance and performance analysis for the rider and how they affect the horse's way of going. This workshop is a must for all levels of riders and instructors.
The speakers include Louise Broom, who specialises in physiotherapy, rehabilitation and performance analysis for riders of all disciplines, Clare Maria Campbell who is an Equine Physiotherapist will discuss how rider asymmetry affects the horse's performance and International Dressage rider Yvette Truesdale will discuss exercises to improve straightness and balance of both horse and rider. Robert Patton, Master Saddle fitter, will also address how correct saddle fitting can improve the rider's position. There will be lots of opportunity for discussion and questions with these top level speakers.
The workshop will cost £10, which can be paid on the day and will run from 11am to 4pm. For groups of 10 or more people booking places in advance there is a reduced cost of £5 per person payable at the door.  This offer can only be honoured to those pre-booking their place via email.  Please bring a chair to sit in the arena. Everyone Welcome!
For further information, contact Rachel Annan, rachel.annan@dardni.gov.uk or phone 02894426994.
Category: News, Other, Product, Sales, Show Jumping, Showing