Spring is upon us and the eventing season is here! If the bright evenings and better weather isn't inspiring you, then the fact it is an Olympic year definiately will! But don't get tangled in a tack crisis, with some good advice and the help of experienced staff at Old Mill Saddlery, you can be up and running for your first event in no time!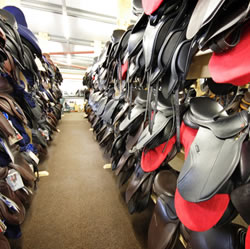 Probably the most important place to start when planning your Eventing wardrobe is your saddle. A comfortable and correctly fitting saddle is of paramount  importance for both horse and rider and can make a huge difference to performance. Having a saddle fitted or checked by a qualified Society of Master Saddlers approved saddle fitter is always advisable. Old Mill Saddlery ,offer this service on site, as well as having hundreds of new and used saddles in stock for you to try. At Old Mill Saddlery, the staff are all horse lovers and care about getting it right for you and your equine.
So what kind of saddle should you buy? For lower level events, a GP saddle will be suitable to get you through all three phases.  However as you move up the grades, you may want to invest in a more forward cut "jumping" saddle to provide more rider security in the jumping phases.  A dressage saddle can also prove to be a great investment, as they feature a deeper seat and are specially designed to promote a closer contact and allow for riding with longer stirrups.
Old Mill stock many well known brands inlcuding Albion, Prestige, Ideal, Kent & Masters, Wintec and more, in various price ranges. Old Mill's own Equipro saddles are provin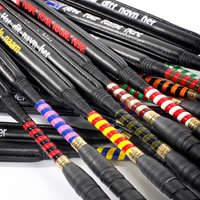 g to be a bit hit with buyers on a more limited budget. Well designed, well made and of good quality leather the Equipro saddles are comfortable, look great and are exceptional value for money. Currently these saddles are available in both General Purpose and Jump styles, in black or brown in both pony and horse sizes.
Old Mill also offer a great embroidery service where you can personalise your eventing wardrobe including saddle pads, jackets, baseball caps and more! The most popular personalised items however are the Procush Event whip. This patented product designed by Old Mill Saddlery is used by many famous faces including eventing favourite Oliver Townend.
They feature cushioned foam ends which are shock absorbing and kind to the horse.  You can choose any colour or personalisation options you would like on your whip, including stem colours, names and flags. A great addition to your eventing kit or a wonderful thank you to that dedicated "groom" or trainer who kindly videos your rounds!
As any event rider knows the list of tack and accessories required for eventing is rather endless, and some events may have also have rules and regulations as to what you can and can't use in the different phases.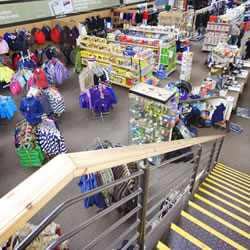 If you are unsure, the experienced staff at Old Mill Saddlery have many years of horsey experience under their belts and are always on hand to help and advise whether by phone, email or instore.
The 10,000 sq foot superstore, located between Carrickfergus and Larne has everything you need under one roof, from bits to boots, bridles to breastplates, saddle pads to stud girths. You might also find spy a gorgeous "must have" for the rider, with great competition wear from Ariat, Mountain Horse, Pikeur & more! Old Mill Saddlery wish you all the best with the new season!
Over the years, we have built our online business to become one of Europe's leading suppliers of equestrian equipment. While our staff are always on hand to help when customers visit our store, you can check our stock and prices online at any time of day or night anywhere in the World with delivery options and prices kept as keen as possible to make sure you get the best deal. We also have a facebook page where you can join us online and hear about our most up to date offers and deals. Click here to view our Facebook Page
Here are our contact details so you know where to go should you need anything in advance of your 2012 spring eventing season.
Our website is www.saddlery.biz Our telephone number is 02893 353268
Our superstore is located on 110 Larne Road, Ballycarry, Carrickfergus, Co. Antrim, BT38 9JN
Category: Business Features, Disciplines, Features, Products