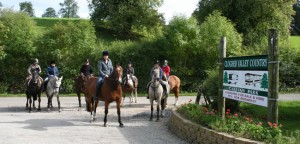 Welcome to a hidden gem in County Tyrone: The Clogher Valley Country Caravan Park. A gateway to the Fermanagh Lakes, situated 6 miles short of the Tyrone Fermanagh border. The park offers Residential Park Homes, Residential Static Caravans, Holiday Static Caravans, Holiday Log Cabin and a spacious Touring area.
Clogher Valley Country Caravan Park is accredited as the 1st British Horse Society, Horse Welcomeapproved establishment in Ireland. Bring your horse on holiday with you with a new seven stable block within a secure court courtyard, post and rail fenced sand arena. Livery services are available and all horse requirements are catered for at Clogher Valley Country Caravan Park as well.
The park is in the heart of the Clogher Valley making it a welcome respite for a weary traveller with their horse lorry, or trailer, tent, caravan, or motorhome. Situated half-way between Clogher and Fivemiletown, 400 yards off the main A4 route to the heart of the Lakes and the West of Northern Ireland. With a FULL 12 Month Licence you can come and go, or stay all year long!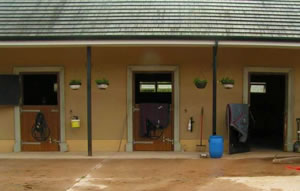 This West side of Northern Ireland is an area of remarkable scenic beauty with winding lanes, forests, lakes, and areas untouched by modern society. There are towns and villages both modern and historical where you can explore the Irish heritage and way of life or take dander around the wide selection of shops in the larger towns such as Dungannon, Enniskillen or Omagh. You can also take a drive across the border into Monaghan in Southern Ireland and have the best of both worlds.
The park is nestled in 18 acres of parkland, it abounds in tree varieties that provide an amazing array of changing colour in Autumn.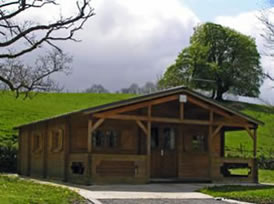 The woodlands also conceal an assortment of wildlife including squirrels, deer, ducks and other wild birds. The park is a short distance from Fardross Forest with forest walks and trails.
Neil and Sandra Somerville with Lynda Bryans at the launch of the Clogher Country Caravan Park residential homes.
The Somerville family put particular emphasis on welcoming the unexpected tourers who turn up at the caravan park. A peaceful family environment where children can explore and play while their parents relax or join in, where couples can spend quality time together in the sanctuary of the park or forest, or just a place you can retire to and enjoy your twilight years.
If you love the peace and freedom of the countryside follow your dreams and move or retire here, free more of your money to enjoy life. Are you just starting out, a first time buyer looking for your first home? Why not come and talk to us about living on-site and enjoy the benefits of a slower pace of life, living in the healthy environment of the park all year round. Join our close-nit friendly community, live your life be free, life is for living so now's the time to start enjoying living instead of slogging the years away.
The Clogher Valley Country Park has so much to offer, the best way to find out about us is come along and see for yourself, experience the atmosphere live the dream enjoy the freedom and let us take the weight from your shoulders be it a short break, holiday or a life changing move you are sure to enjoy your time with us.
LOG CABIN – HOLIDAY HIRE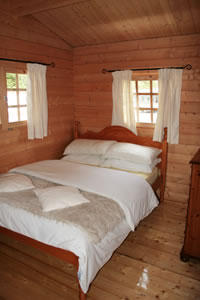 Our 2 bedroom Log Cabin (sleeps 7) is now available to hire. With double glazing and central heating the Log Cabin can be hired anytime throughout the season (March – November)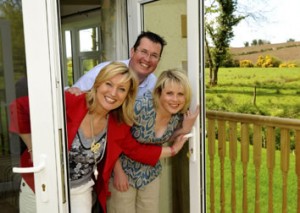 Fully furnished, 1 double room and a Trio Bunk room comprising of a Double bed with a single bunk above, bedding and bedlinen are supplied. The trio bunk room also has a television video combi to keep the children entertained!! There is an open plan living dining area with colour plasma television and the sitee converts into a double bed. The spacious interior will provide you excellent accommodation with the comforts of home making life easy for a stress free holiday. The Touring, Camping Area of Clogher Valley Country Caravan Park has room for 33 tourers and over 80 pitches. Level grass and hard standing pitches with electric and water points close by. With a 12 month licence you can enjoy all seasons: come and go all throughout
the year.
The new shower and toilet block incorporating laundry and dish-washing facilities is now up and running.
We are a Four Star Northern Ireland Tourist Board Hoilday Park. We have a large campsite on the edge of Fardross Forest Park. For a friendly, clean and modern campsite, touring site or holiday in Ireland.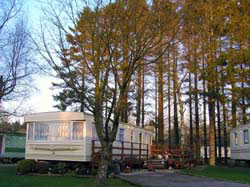 Local Area 
The respected Necarne International Equestrian Centre at Irvingstown, and the Ecclesville Equestrian Centre at Fintona and our own Forest Stables at Fivemiletown provide excellent facilities for the riding enthusiast or novice.Clogher Valley Country Park is an ideal centre for your holiday activities with facilities nearby for angling (course or fly), cycling, golf riding or just taking an invigorating walk. Day licenses for trout fishing on the Blackwater River are available on request as are arrangements for golfing with three golf courses within ten miles of Clogher at Fivemiletown, Fintona and Aughnacloy and another two slightly further a field at Enniskillen and Omagh.Among many places of interest for the cyclist or walker are Knockmany Cairn with its view of seven counties, Lumford's Glen with its waterfall is one of Tyrone's best kept secrets; Augher Castle and lake, Clogher Cathedral and hillfort, Carleton's Cottage, Fardross Forest Park, and St
Patrick's Chair and well where many a wish is made Or why not stroll by the Blackwater River or in the Slieve Beagh Hills? Two small museums at near by Fivemiletown provide an insight into the areas past.
Each year the Clogher Valley plays host to two significant events which attract visitors from all over Ireland and further afield. The Clogher Valley Agricultural Show held at Augher on the last Wednesday of July is now the largest one day show in Ireland. About 10 days later, in early August, the William Carleton Summer School takes place in Clogher. This five day event brings together writers, poets and Carleton scholars for a programme of lectures, poetry, music and drama with local tours. Clogher Community Festival and the Spoilan Fair provide an added attraction for visitors during the Carleton Week.
Pictured right: Sandra and Zoe Somerville competing at this years annual Clogher Show, not far from their own Clogher Country Caravan Park.
Why not visit the lovely Castle Leslie Estate and Equestrian Centre where the famous wedding took place of Sir Paul McCartney and Heather Mills at Glaslough Church, only 15 miles away. For visitors wishing to travel a little further the Ulster American Folk Park in Omagh is less than 20 miles north, the historic City of Armagh. With its two St Patrick's Cathedrals. Planetarium, Mall and Train Centre lies approximately one hour's drive to the east, The beautiful Lakes of Fermanagh to the west include many attractions such as the Marble Arch Caves, two National Trust properties at Castlecoole and Florencecourt the world famous Belleek Pottery and Enniskillen Castle Museum.
Clogher Valley Country Caravan Park
9 Fardross Road
Clougher
County Tyrone
BT76 0HG
UK
Please click on the link below to submit an e-mail enquiry
Email: info@cloghervalley.co.uk
Tel: 028 8554 8932
Category: Business Features, Equestrian Holidays, Features