At Horsebox Ireland, we have a range of vehicles to suit every budget on sale and horseboxes and lorries to hire as well.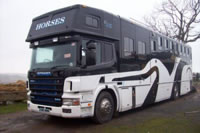 We are based in Crossgar, County Down and welcome new customers to show our range of current stock at any time. For new customers who aren't sure if they need to purchase a lorry, and perhaps want to try it out for a weekend, we suggest lorry hire to make sure it is 'for them' and suits their needs.
It is often the case, that people come back after a weekend show with our hire lorry and say that although they had a great time and it was perfect for their weekend show, they might only use it three to four times a year and simply don't need it depreciating in their driveway all year round when they can make use of our hire lorry at a fraction of the yearly upkeep costs associated with buying!
There are several advantages of hiring over buying, which we have listed below, however if you do decide to either take the plunge and become a first time lorry owner, or decide to upgrade, then we have some super lorries in stock that we would be delighted to introduce to you!
Some of the advantages include:
No insurance to pay
No tax
No MOT
No repairs to pay
No new tyres
No storage charges
We have it gleaming and ready for you to collect
We take care of it so you don't have to!
On average the cost to keep your box on the road could be an annual sum of approximately £600 to include maintenance, tyres, small repairs, PSV preparations etc. This won't include buying the vehicle and having somewhere to store it if you don't have a driveway big enough and it can be something that buyers don't always consider when they are preparing to make a purchase.
Our hire vehicles are fully insured on hire and reward bases. They are also fitted with cameras inside the stalls so you can see how your horse is travelling. The cameras automatically switch to outside when the horsebox is put into reverse so you see what you need to!
We have a handy three horse lorry that is easy to drive for someone not used to driving a larger vehicle and is a popular choice with our customers so book early!
To hire one of our horseboxes on a self drive basis, you will need to have passed your driving licence before 1997 or have taken your C1 test.
To view a full list of our current stock on our websiteclick here
If you would like to contact us our details are below:
CVC Horsebox Ireland
'RIVERSIDE'
85A  Barnamaghery Road
Crossgar
Co Down
Bt30 9nb
Mobile: +44 (0) 77 1063 1316
Tel: +44 (0) 28 448 31677
Category: Business Features, Equine Transport, Features