Business Directory
Lesley Johnston Lodge Equine Stables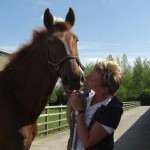 Lodge Equine Stables (L.E.S.) opened in April 2009, the riding school at Mullalelish Road near Richhill in County Armagh fulfils a lifetime ambition for enthusiastic qualified Instructor, Lesley Johnston.
We have a website you can visit by clicking the link above, and a facebook page you can visit by clicking on this link http://www.facebook.com/pages/Lodge-Equine-Stables/112894595422031
Lesley's work with horses has taken her all over. She has worked in a show jumping yard in Italy and several riding schools and pony/riding clubs, but eventually felt the time had come to go it alone. Thankfully her husband and children, share her love of horses.
Everyone in the family has put their heart and soul into making Lodge Equine Stables a success. The children help feed, groom and muck out while their dad jokes that he goes to work to get a rest.
Lodge Equine Stables has grown so popular with a regular waiting list for some of the classes. It caters for both kids and adults with horses available for all levels. Group or private lessons, hacking, birthday rides, special functions and "Own A Pony Days" which are always accompanied by qualified instructors.
L.E.S. think it's really important for all would be riders to know as much about the ponies as possible so as well as our Pony Club Members working hard towards achievement badges in our Riding School we offer "Own A Pony Days" when we try to include talks and demonstrations from equine enthusiasts eg; Equine Muscle Care, a blacksmith, a Horse Dentist, and accomplished people from the Equestrian world giving a glimpse of work involved and rewarding results.
100 Mullalelish Road
Richhill
Co Armagh
BT61 9NL
Tel: 07597310395