Business Directory
Carolyn Perkins BVetMed, BAEDT, MRCVS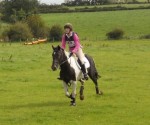 Carolyn qualified from the Royal Veterinary College (London) in 2003 and started her veterinary career in mixed practice in Hertfordshire before moving to an equine veterinary hospital in Berkshire.  It was here that her interest in equine dentistry began to develop while handling a large caseload including polo yards, dressage horses, eventers and show jumpers, all expecting the very highest level of dental care.
In 2007 Carolyn moved back to Northern Ireland with her husband and continued to work as a vet.   During this time a demand for more specialist dentistry for horses became apparent and Carolyn decided to take her interest a step further by successfully taking the theory and practical examinations to become a qualified Equine Dental Technician (EDT).  This a highly respected qualification within the industry and is recognised and recommended by the British Equine Veterinary Association (BEVA).  A full list of qualified EDT's is available at www.beva.org.uk .
At present Carolyn lives in Hillsborough with her husband, two young children, dog, cat, sheep and 5 horses.  She is planning to open a facility at her farm to treat horses on site as well as continuing to be available for visits by appointment.   The Equine Dental Clinic is scheduled to open in September 2012.
To contact Carolyn for appointments call 07818 035356
Visit our new website www.horsedentistryni.com