Business Directory
Beltoy Stud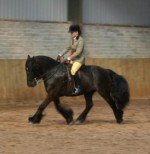 Beltoy Stud was established in 1984 by Tony and Marie Bell and is located in Larne, County Antrim.
With stallions including Westpark Rising Sun, Cranford Dan Care II, Beltoy Rigadoon, and Jade Regent at the stud.
You are welcome to view their online profiles and share photographs from the Beltoy website.
Visitors are always welcome by appointment, call 028 9337 8850 or email tony@beltoy.freeserve
.co.uk
To visit the Beltoy stud website, enter http://www.beltoy.com into your web browser.
Tel: 02893 378850
31 Ballywillan Road
Larne
County Antrim, BT40 3LQ